I felt like I was the only one going through this. I was pushing my family and friends away because I felt ashamed. I didn't realize that this was rooted in a deeper issue of being rejected. Thankfully, Crystal helped me work through that. She helped me realize that God still loves me and there are people out there that can help support me through this. It was great to connect to others as well and be held accountable. Even after a year later, one of the girls and I are still each other's accountability partners. I would go through this program again. —Audrey R.
Intensive Group Recovery Coaching – Registration Closed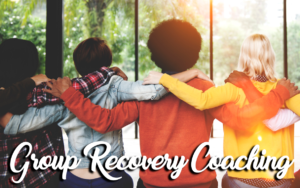 Don't go at it alone! Join certified life coach, former porn addict, and DGM founder Crystal Renaud for intensive group recovery coaching starting Tuesday, May 15, 2018 at 4:00pm central time. The intensive recovery coaching model is designed to help women safely dig deep into porn, sexual, and relationship addiction recovery in both a group and one-on-one format and is 33% less than the cost of traditional one-on-one intensive coaching with Crystal.
No more than 15 women may participate so applications are first come, first served. If more than 15 women are interested, a second group may be formed. The group coaching curriculum will follow the L.I.F.E. Guide for Women by Marnie Ferree for 21 weeks. Additional material will come from Dirty Girls Come Clean, 90 Days to Wholeness, and the Bible. Coaching is conducted by Zoom, Phone, Email, Text Message, and DGM Community.
With group recovery coaching, you will receive:
21 Weeks of Recovery Coaching with Crystal Renaud via email, text, community, phone, and Zoom
L.I.F.E. Guide for Women Workbook
Dirty Girls Come Clean on Paperback or Audiobook
Ten (10) 90-minute group recovery coaching sessions (on Zoom)
Three (3) 45-minute individual coaching sessions (by phone or Zoom)
Enrollment in 90 Days to Wholeness daily email devotional
21-week access to the DGM online community (if you're already paying monthly for membership, your payments will be placed on hold for 21 weeks)
30 days to try Covenant Eyes for free
With group recovery coaching, you must:
Complete the application linked below
Agree with the terms outlined in the application linked below
Have access to reliable Internet and functional webcam for group sessions via Zoom
Enroll in a payment plan (weekly or monthly) for a total of $798 (33% less than traditional one-on-one intensive coaching with Crystal!).
Week 1 of curriculum begins Tuesday, May 15, 2018 with reading/homework. The following are the 10 group session dates. The included one-on-one sessions will be scheduled with each individual client. 
Tuesday, May 22, 2018
Tuesday, June 5, 2018
Tuesday, June 19, 2018
Tuesday, July 10, 2018*
Tuesday, July 17, 2018
Tuesday, June 31, 2018
Tuesday, August 14, 2018
Tuesday, August 28, 2018
Tuesday, September 11, 2018
Tuesday, September 25, 2018
Registration deadline was Friday, May 11, 2018. Stay tuned for our next registration period.